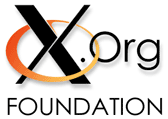 OK, the final version of the X.Org conversion patch has hit the tree.
No ports appear to be broken by the upgrade at this time. X.Org has
been made the default X distribution on -current. Other versions of
FreeBSD retain the same default X distribution (XFree86) but can upgrade
by setting X_WINDOW_SYSTEM=xorg in /etc/make.conf.
Yes! Give 'm hell! That'll teach 'em to switch licences on us! Apache fork, anyone?

RMS was right all along...

[Those finding this entry to be a bit cryptic or otherwise merely monomaniacal, please keep in mind that after 12 weeks of continual cat blogging, I have to regain some street credibility with my fellow-Asperger nerd friends.]